Tray Dryers
Bulletin
Hardworking Ovens designed for baking, drying, preheating in Chemical, Food, Dyestuff, Pharmaceutical or any other applications where a dependable sources of heated air to 2600C is required. Complete with temp. controllers that offers the latest in solid state heat sensing technology and built in floor level tracks that make trolley loading easy.
Horizontal airflow accommodates virtually any dryer Loading without restricting air passages. Work can be shelf loaded or placed directly on the optional reinforced work space bottom. Five sizes Side mounted control panel minimizes floor space required. Designed for Roasting, Drying, Pre-Heating or any other application where a dependable source of heated air up to 300 degree.
STANDARD FEATURES
Thermostatic controller
Motor control push buttons
On - off heater switch
Easy to see pilot lights
SAFETY EQUIPMENT
Adjustable, thermocouple actuated, manual reset Excess temperature controller
Separate heating elements control contactors
Re-circulating blower air flow safety switch
Interlock Heaters & Blower
CONSTRUCTION
Front to bottom horizontal air flow
G.I. or M.S. interior
M.S. exterior with powder coated or painted
All welded construction
Explosion venting latches
2.5 kg per cu.feet. density Rock wool Insulation
Silicon rubber door gasket on up to 300 degree
Adjustable fresh air & exhaust dampers
High pressure re-circulating blower
Door hinges, ball catch, Handle
1 year limited warranty
Every oven fully assembled and individually factory tested
Specifications
No.of

Size (0)

Size (I)

Heating Load Kw

No. of

No. of

No. of

No. of

Tray

WxDxH

WxDxH

1000C

2000C

3000C

Door

Fans

Motors

Trolley

12

54x21x37"

33x12x33"

3

6

9

1

1

1x0.25

-

24

54x37x37"

33x34x33"

6

9

12

1

2

1x0.5

-

48

78x40x74"

40x36x72"

9

15

21

1

1

1x1.00

1

96

131x40x74"

77x36x72"

15

21

27

2

2

1x1.0

2

192

131x75x74"

77x69x72"

36

42

48

2

4

2x2.0

4
TRUCK WHEEL GUIDE TRACKS :
Allows loading at factory floor level
Choice of track width and centres
Structural steel angle iron construction
Integrally welded to steel base plate
Flared entrance for easy loading
Available with insulated floor
INSULATED FLOOR
Minimizes heat loss through oven floor
Improves temperature uniformity at bottom of workspace
High density insulation
Structural steel angle iron reinforcement
Integrally welded construction
Steel plate cover
Available with truck wheel guide tracks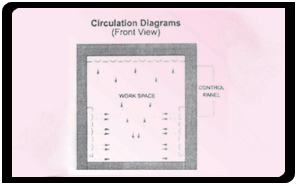 ADDITIONAL EQUIPMENT & CUSTOM BUILT DRYERS AVAILABLE.
Send Enquiry