Top Loading Ovens
Bulletin CA -450
HEAVY DUTY ELECTRIC AND GAS
HORIZONTAL AIR FLOW
TOP-LOADING OVENS
For annealing, pre-heating, baking or any other heat processing where overhead handling equipment is used. Temperatures to 5250C. Full opening door exposes entire workspace for easy loading. Constructed for long hard continuous use. Ideal for severs service applications - load capacities up to 4000 lbs
STANDARD FEATURES
Controls
Digital, microprocessor based, thermocouple actuated, indicating temperature controller
Modulating burner on gas ovens.
Motor control pushbuttons and on off heat switch
Easy-to-see pilot lights
Safety Equipment - electric Oven
Adjustable, thermocouple actuated, manual reset excess temperature controller
Separate heating element control contactors
Recirculating blower air flow safety switch
Safety Equipment - Gas Oven
Adjustable, thermocouple actuated, manual reset excess temperature controller.
Electronic flame safeguard protection
Powered forced exhauster for combustion venting
Exhauster air flow safety switch
Recirculating blower air flow safety switch
Purge timer
High gas pressure switch
Low gas pressure switch
Latch-type manual reset main gas valve
Testing device to test tight closure of main gas valve
Solenoid blocking valve up to 400,000 BTU/HR heat input; motorized backup valve and vent valve over 400,000 BTU/Hr
Construction
Adjustable patented opposed louvers on full coverage supply and return ductwork
Automatic air operated door
¼" steel plate top prevents loading damage
Wear bars at sides of workspace
Reinforced floor with removable grate
10 lbs./cf. density industrial rockwool insulation
Aluminized steel interior
Aluminized steel exterior with enamel finish
Brushed stainless steel control panel face
Adjustable fresh air intake and exhaust dampers
High temperature door gasket with stainless steel spring insert
All welded construction
Low profile minimizes interference with loading equipment
1 year limited warranty
Every oven fully assembled and individually factory tested
SPECIFICATIONS
Model

Work Space

Dimensions (WxDxH)

Outside Dimensions* (WxDxH)

Max Temp

Blower

Insu
lation

Floor Loading

Heat Input

Operating Characteristics

CFM

HP

KW

BTU/HR

Control Accuracy

Oven Uniformity

Rise Time

Electric

Gas

LA- 275

36" x 36' x 36"

55" x 83" x 48"

2750C

1500

1½

4"

1000

15

100,000

+ 0.3%

+ 40C

38 min

24 min

LA- 350

36" x 36' x 36"

57" x 85" x 50"

3500C

2000

2

5"

1000

20

150,000

+ 0.3%

+ 40C

44 min

26 min

LA- 450

36" x 36' x 36"

59" x 89" x 52"

4500C

1000

2

6"

1000

30

250,000

+ 0.3%

+ 50C

57 min

27 min

LA- 525

36" x 36' x 36"

65" x 93" x 56"

5250C

4000

3

8"

1000

40

300,000

+ 0.3%

+ 50C

60 min

33 min

LB- 275

72" x 36' x 36"

117" x 55" x 48"

2750C

24520

1½

4"

2000

30

250,000

+ 0.3%

+ 40C

25 min

22 min

LB- 350

72" x 36' x 36"

119" x 57" x 50"

3500C

3300

2

5"

2000

40

300,000

+ 0.3%

+ 40C

29 min

19 min

LB- 450

72" x 36' x 36"

123" x 61" x 52"

4500C

4000

3

6"

2000

60

400,000

+ 0.3%

+ 50C

37 min

26 min

LB- 525

72" x 36' x 36"

127" x 67" x 56"

5250C

5000

5

8"

2000

80

600,000

+ 0.3%

+ 50C

39 min

24 min

LC- 275

48" x 48'' x 48"

67" x 95" x 60"

2750C

24520

1½

4"

2000

30

250,000

+ 0.3%

+ 40C

27 min

18 min

LC- 350

48" x 48'' x 48"

69" x 97" x 62"

3500C

3300

2

5"

2000

40

300,000

+ 0.3%

+ 40C

31 min

20 min

LC- 450

48" x 48'' x 48"

73" x 101" x 64"

4500C

4000

3

6"

2000

60

400,000

+ 0.3%

+ 50C

41 min

28 min

LC- 525

48" x 48'' x 48"

79" x 10"5' x 68"

5250C

5000

5

8"

2000

80

600,000

+ 0.3%

+ 50C

42 min

26 min

LD- 275

96" x 48" x 48"

141" x 69" x 60"

2750C

4200

3

4"

4000

60

400,000

+ 0.3%

+ 40C

19 min

14 min

LD- 350

96" x 48" x 48"

143" x 73" x 62"

3500C

6000

5

5"

4000

80

600,000

+ 0.3%

+ 40C

22 min

16 min

LD- 450

96" x 48" x 48"

155" x 79" x 64"

4500C

7800

5

6"

4000

100

700,000

+ 0.3%

+ 50C

36 min

25 min

LD- 525

96" x 48" x 48"

159" x 87" x 68"

5250C

10,000

7½

8"

4000

120

800,000

+ 0.3%

+ 50C

41 min

30 min
Specifications subject to change without prior notice
STANDARD EQUIPMENT
All Models
- 230 volts, 3-phase, 50Hz
- Other electrical characteristics available
Inner oven floor reinforced for loading and equipped with removable grating. Oven top surface constructed of ¼" steel plate and workspace interior equipped with wear bars to prevent damage during loading. Automatic door opening mechanism consisting of solid steel shaft, bearings, and air cylinder system.
Electric Models
Each features completely wired, side access control panel enclosing terminals for incoming power, temperature controllers, push buttons and pilot lights. Motor starter and heating element contactors electrically interlocked to shut off heaters if power to blower is interrupted and to permit operation of blower without heat for cooling. Incoloy sheathed tubular heating elements. Exhaust outlet 4" diameter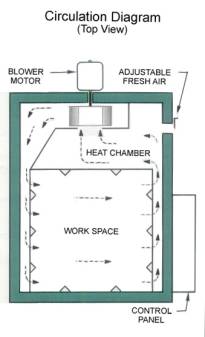 Gas Models
- 1,000 BTU natural gas at 6" water column pressure, 1" NPT inlet
- Other gas characteristics available
Control panel as detailed above and safety devices as listed on the front of this bulletin. Automatic preignition purge period and pushbutton electric ignition contributes to ease of operation. Modulating gas burner is protected with electronic flame safety relay.
These electric or gas ovens come in four sizes. They feature full horizontal airflow with adjustable patented opposed louvers for balanced airflow. The horizontal airflow pattern allows heated air to pass between stacked parts for uniform heating. High volume recirculating blowers are specifically designed for heating heavy loads.
The removable grating on the oven floor protects the oven from impact during loading and distributes concentrated loads across the entire oven floor. The grating allows for air movement beneath the work for uniform processing.
The LA and LC series have the heat chamber located to the rear of the workspace. ON the LB and LD Series, the heat chamber is located to the right side of the workspace to position the supply and return ductwork at the front and rear of the workspace respectively. This provides the shortest distance between ducts, which minimizes the temperature differential across the workspace.
1000oF Models Only.
Insulated with 2" of 10500C insulating block backed up with 6750C industrial rockwool. 16 gauge aluminized steelwork space interior; 304 stainless steel heat chamber interior with stainless steel recirculating blower. Gas models include stainless steel exhauster.
ADDITIONAL EQUIPMENT AVAILABLE
Programmable Temperature Controller, microprocessor based, digital indicating, thermocouple actuated, in lieu of standard controller......PTC3
Recording Thermometer, thermocouple actuated, 24-hour, 10" diameter circular chart used in conjunction with standard controller..................RT
Programmable Recording Temperature Controller, microprocessor based, thermocouple actuated digital display, 24-hour, 10" diameter circular chart, in lieu of standard controller.........................................................................................................................................................PRTC3
Digital Timing System, incorporated into standard temperature controller, 99 hour 59 minute range, starts timing when temperature reaches set point and shuts down oven at end of set time.......................................................................................................................................................DTS3
Shut Down Timer, with continuous "hold" feature.1, 5,10 or 30 hour range..........................................................................................................SDT
Batch Timer, for uniformly timing batch operations. Continuous alarm with door interlock; alarms at end of preset time period until door is opened or timer reset. 1,5,10 or 30 hour range.....................................................................................................................................................................BT
Automatic Door Switch turns off blower and heat when door is opened. Restores blower and heat on electric models blower only on gas models when door is closed.
Powered Forced Exhausters
| Capacity | HP | Outlet Diameter | Height |
| --- | --- | --- | --- |
| 130 CFM | 1/3 | 4" | 20" |
| 325 CFM | 1/3 | 6" | 23" |
| 650 CFM | 1/2 | 6" | 23" |
| 975 CFM | 1 | 8" | 23" |
Send Enquiry