Tempering Bench Furnaces
Bulletin BF-730
COMPANION ELECTRIC
TEMPERING FURNACE AND
QUENCH TANK
Electric Tempering Furnace can be combined with Electric Bench Furnaces or Inert Atmosphere Bench Furnaces to produce a space saving, over and under, heat treating and tempering furnace combination. The top chamber with its manually operated vertical lift door can be selected from among four sizes of 11000F and 12000C Bench Furnaces described on Bulletin BF-710 or Inert Atmosphere Bench Furnaces described on Bulletin BF-720. The Quench Tank is a free standing unit available with electric heat.
STANDARD FEATURES
Controls
- Digital, microprocessor based, thermocouple actuated, indicating temperature controller
- On-off heat switch
- Easy-to-see pilot light

Safely Equipment
Adjustable, thermocouple actuated, manual reset excess temperature controller
Separate heating element control contactor
Door interlock switch turns off power to heating elements and blower when door is opened; restores power when door is closed
Construction
Recirculation blower located in back wall
Heavy gauge aluminized steel cabinet with enamel finish
Brushed stainless steel control panel face
Designed to support heat treating furnace
Well insulated, side-hinged door
High temperature alloy heating elements supported by rugged ceramic plates
Energy-saving lightweight ceramic fiber insulation reduces operating costs
Fast heat-up
Heating elements located on sidewall and roof for excellent temperature uniformity throughout workspace
Ceramic hearth tray
1 year limited warranty
Optional Quench Tank
Expanded metal loading basket
Use with water, oil or synthetic solutions
½ HP direct subway grate basket support
Optional electric heat
All equipment fully assembled and individually factory tested
SPECIFICATIONS
Model

Work Space

Dimensions

Out Side Dimensions (W x D x H)

Height W/Door Open

Blower

Door open

Heat input

Operating Characteristics

Approx Shipping Weight

CFM

HP

KW

BTU/HR

Control Accuracy

Furnace Uniformity

Rise Time

Electric

Gas

TF-183618

18" x 36" x 18"

35" x 87" x 74"

78"

2400

3

Electric

28

190,000

+0.3%

+60C

95 min

85 min

3100 lbs

TF-243624

24" x 36" x 24"

47" x 92" x 80"

90"

3500

5

Electric

42

285,000

+0.3%

+80C

90 min

80 min

4000 lbs

TF-304830

30" x 48" X 30"

53" x 106" x 86"

102"

4250

5

Electric

52

355,000

+0.3%

+80C

90 min

80 min

5200 lbs

TF-364836

36" x 48" x 36"

59" x 111" x 126"

126"

5300

5

Air

65

450,000

+0.3%

+100C

85 min

75 min

6400 lbs

TF-366036

36" x 60" x 36"

59" x 121" x 126"

126"

6000

7½

Air

74

510,000

+0.3%

+100C

85 min

75 min

6800 lbs

TF-484848

48" x 48 "x 48"

71" x 114" x 150"

150"

8000

10

Air

100

660,000

+0.3%

+120C

70 min

65 min

8700 lbs

TF-487248

48" x 72" x 48"

71" x 152" x 150"

150"

9600

15

Air

120

800,000

+0.3%

+120C

75 min

70 min

9950 lbs
STANDARD EQUIPMENT
Standard Electrical Characteristics
-230 Volts, 3-phase, 60 Hz
-Other electrical characteristics available
Wall insulation, 7" thick, consisting of
-1" of 12500C,8 lbs /ct ceramic fiber blanket
-2" of 9250C, 4 lbs /CF ceramic fiber blanket
-2" of 10500C 15 lbs/CF block insulation
-2" of 6750C rockwool insulation
Floor insulation, 6 ½ " consisting of:
- 4 ½" of 12500C insulating firebrick
- 2" of 6750 C 18 ½ lbs/ cf. block insulation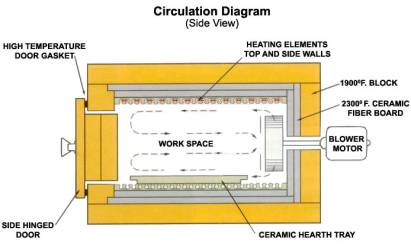 Electric Models
Safety devices as listed on the front of this bulletin. Heating element contactors electrically interlocked with door to shut off power to heaters as door opens and restores power when closed. High temperature alloy coiled wire-heating element supported in alloy rack, Heating elements located in heat chamber upstream of the recalculating blower. Exhaust outlet 4'" diameter.
Gas Models
- 1,000 BTU natural gas at 2-psig pressures. 1" NP inlet up to 800,000 BTU/HR
- Other gas characteristics available
Safety devices as listed on the front of this bulletin. Automatic preignition purge period and push button electric ignition contributes to ease of operation. Modulating gas burner fires into chamber upstream of the re-circulating blower. Gas burner protected with electronic flame safety relay. Door interlock switch drives main burner to low fire when door is opened and restores control when door is closed. Exhaust outlet 6" diameter.
Furnace shell is made of 3/16" thick steel plate reinforced with structural steel. Doorsill constructed from firebrick to protect furnace during loading. Stainless steel grid at bottom of workspace to distribute loading. Soft insulation on door provides an excellent heat seal by pressing against the vestibule refractory and ½" thick steel front plate. Exterior painted with Trilite Green enamel. Each features completely wired side access control panel assembled on the furnace enclosing terminals for incoming power, temperature controllers, push buttons and pilot lights.
Electric Door
Door pivots upward above furnace, clearing front for easy loading. In the closed position, full door weight seats door firmly against furnace face. Structural steel pivot arms are supported at furnace sidewalls by bearings and connected to a heavy-duty electro-mechanical actuator. The door is controlled by a switch at the furnace control panel.
Air Door
Door rises vertically in front of the furnace hanging from heavy-duty roller chain, sprockets, shaft and pillow block bearings. In the closed position, rollers at the sides of the door engage support brackets to force the full door weight against the furnace face. Large diameter air cylinder rotates support shaft to lift the door. The door is controlled by a manual air valve with supply filter, lubricator and regulator.
ADDITIONAL EQUIPMENT AVAILABLE
Programmable Temperature Controller, microprocessor based, digital indicating, thermocouple actuated, in lieu of standard controller.........................................................PTC3
Recording Thermometer, thermocouple actuated, 24-hour, 10" diameter circular chart used in conjunction with standard controller.............RT
Programmable Recording Temperature Controller, microprocessor based, thermocouple actuated, digital display, 24-hour, 10" diameter circular chart, in lieu of standard controller ....................PRTC3
Digital Timing System, incorporated into standard temperature controller, 99 hour 59 minute range, starts timing at temperature set point and shuts down furnace at end of set time .........................DTS3
Shut Down Timer, with continuous "hold" feature 1,5, 10 or 30 hour range.............SDT
Batch Timer, for uniformly timing batch operations. Continuous alarm with door interlock; alarms at end of preset time period until door is opened or timer reset. 1,5,10 or 30 hour range........................ BT
Inert Atmosphere Construction, available on electric furnaces only, includes continuously welded furnace shell, inert atmosphere gas inlet and outlet, sealed terminal boxes, high temperature door gasket....IAC
Inert Atmosphere Inlet Piping, complete with indicating flow control and gas valve. Specify atmosphere...IA
Send Enquiry